CONTENIDOS
Casa Ana Countryside Hotel 4* is in Sésamo, is a small mountain village in the heart of the beautiful El Bierzo. Its strategic location allows you to move in a few minutes to the main attractions in the area. The distance to the cave paintings of Sésamo, the pen of wolves, celtic fort is a short walk; the river beach of Vega de Epinareda, its Roman bridge and the Monastery of San Andrés are also near. Once in the car you can not miss the Médulas (ancient Roman gold mines, a World Heritage Site), the Celtic pallozas of Ancares (Biosphere Reserve), the castro of Chano, Villafranca del Bierzo (Small Compostela) Templar Castle of Ponferrada, the Valley of Silence...
If you like are quiet walks through beautiful scenery, don't miss out on hiking, running or cycling. Casa Ana has tons of options (on the rivers banks, across valleys and forests, towards the top of the mountain...), If you are looking for adventure El Bierzo offers karting, downhill canoeing, bungee jumping, climbing, horse riding and buggies, paintball, rafting ... But this region is also much more, El Bierzo and it's enviable gastronomy ( botillo, chestnuts in syrup, cherries in brandy, wines with DO ...), tradition (Camino de Santiago, fairs and festivals ...), history (castles, emblematic villas, museums...).
Actividades en Las Médulas
Visitas Parque Natural de Los Ancares
Camino de Santiago en El Bierzo
Turismo activo en El Bierzo
Gastronomía y enoturismo en El Bierzo
Rincones y rutas en El Bierzo
Arte y fiestas en El Bierzo
Playas fluviales en El Bierzo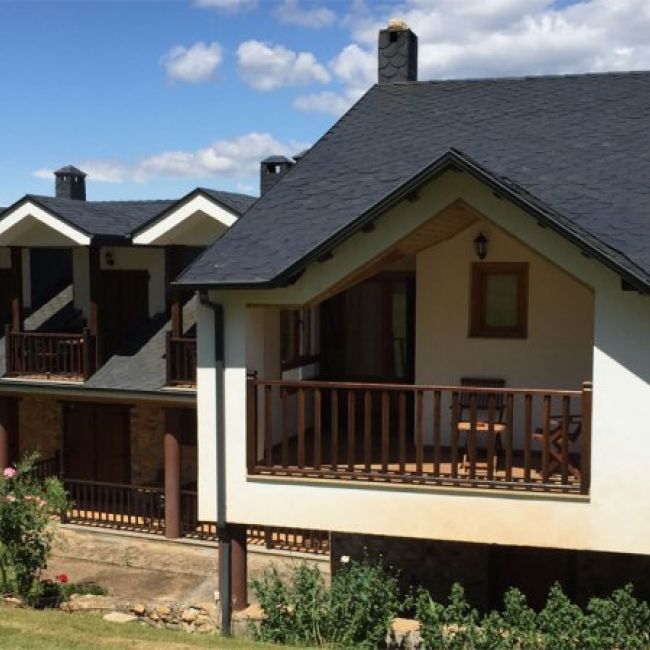 Casa Ana is a charming countryside 4-star hotel in the center of El Bierzo, a tourist destination of great beauty and enviable cultural heritage, where you can enjoy the tranquility of the mountains and meandering rivers, landmarks World Heritage Site Las Médulas, historical rural villages as Villafranca del Bierzo, many outdoor activities (hiking, biking, horseback riding, bird watching, hunting, fishing, adventure tourism). We must also mention its rich cuisine recognized in quality brands: wines from El Bierzo, apples, chestnuts or botillo.
We are in Ancares Natural Reserve (by UNESCO in 2006), a magical place where traditions and folk architecture, such as pallozas have remained unchanged over time. This lush land of high peaks and deep valleys will transport you to another time.